Navigating Diversity: Considerations in Healthcare, Communication, Decision-Making and Society for Individuals with Differences in Sex Development (DSD)/Intersex

November 4, 2021 at 5:00 pm Pacific / 8:00 pm Eastern

This 1-hour webinar is designed to provide sexual medicine clinicians with an overview of contemporary issues for patients with disorders of sexual development (DSD). The webinar will feature a Q&A format and explore general discussion of DSD, patient-clinician communication, patient-centered care, and targeted healthcare resources as well as current debates about the stigmatized condition. The webinar will feature a panel of clinician-researchers, a patient and patient advocate from the U.S. South (Memphis, TN) who will also explore the influence of culture and geographical context on the aforementioned topics. Webinar participants will gain a broad understanding of DSD as well as suggestions for providing culturally responsive, patient-centered care to DSD patients.
Meet the Speakers
Janeane N. Anderson, PhD (moderator)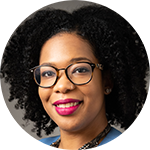 Dr. Janeane N. Anderson (she/her) is an Assistant Professor in the Department of Health Promotion and Disease Prevention in the College of Nursing at the University of Tennessee Health Science Center (UTHSC) in Memphis, TN. Dr. Anderson completed postdoctoral research fellowships in the Rollins School of Public Health at Emory University and the College of Medicine at UTHSC. She earned a PhD in Communication from the Annenberg School for Communication and Journalism and a Master of Public Health degree with an emphasis in health communication from the Keck School of Medicine at the University of Southern California. Dr. Anderson's research targets the relationship between patient-clinician communication practices and clinical and quality of life outcomes among Black adolescents and adults. She studies the ways in which patients and clinicians share power and responsibility to achieve patient health goals in sexual health and chronic disease management. Extramural funding from the National Cancer Institute has supported studies that explore patient-clinician communication, treatment adherence, and sexual health challenges among Black and sexual minority women with breast cancer (3R01CA218155-01S1 and 5R01CA218155-02). She is also the research consultant for an ongoing NIH/NIMH-funded K01 grant project to develop a multi-component intervention to increase HIV risk perception and pre-exposure prophylaxis (PrEP) initiation among Black sexual minority men in Baltimore, MD.
Dr. Anderson's professional activities also include developing faculty resources and university-level programing to address diversity, equity, and inclusion goals and objectives. Some of her more recent efforts include developing pedagogical resources for UTHSC faculty to implement inclusive learning strategies in clinical learning environments and conducting professional communication workshops for College of Nursing and College of Medicine faculty to improve critical consciousness and communication with diverse students, patients, and community members.
Lacretia Carroll, PhD, MSN, RN